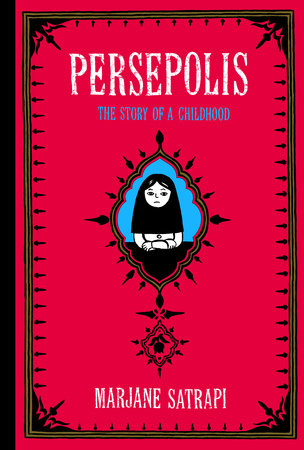 "One can forgive, but one should never forget"

Marjane Satrapi
Persepolis: The story of a childhood is a hugely acclaimed graphic memoir with a cult following across cultures. An engrossing amalgamation encompassing a variety of human emotions, the book touches upon contrasting shades of joy and melancholy; love and hatred; free-spiritedness and dogma; fearlessness and terror. This illustrated book is a powerful compilation of visuals depicting childhood stories of Marjane Satrapia. Marji, as she is fondly known amongst her friends, is in a dilemma; she is unsure of what is right and what is not. Her dichotomy is rooted in her value system inculcated by her educated liberal parents and the growingly intolerant social order. Marji's state of mind with her share of doubts have been accurately represented with black and white illustration – Simple yet Effective. Satrapi's style is praiseworthy; she has captured the many moods of Marji – innocent, curious, and at times rebellious – exceptionally well.
The book, Persepolis is a Revolution in its own ways. Persepolis as the name suggests is derived from Persia – Old name of Iran. The book is set in the late 1970's when Iran was experiencing a societal change under the Islamic Revolution. This transformation was about to usher in a paradigm change in the Iranian society, politics, and religious practices. This change eventually affected little Marji as she grew up; her perplexities increased with two opposite worlds around her. While she enjoyed every freedom at home, her public liberty to do simple things was getting curtained. All this was devastating for the free-spirited Marji who had been brought up in an open mindset and avant-grade thought process. Satrapi has hand-picked some of these instances of uneasiness from Marji's social interactions. She has also added the many horrors of the war and the socio-political conditions of the time.
Visual Language | Satrapi has relied on simple bold B&W illustrations using the simplistic forms to showcase a plethora of emotions. With simple line strokes, she has represented complicated ideas in a humorous manner. The usage of B&W illustration with (i) multiple patterns to differentiate, (ii) interaction of positives and negatives and (iii) dramatic use of light and shadow showcases Satrapi's prowess as a visual story-teller. She has visually represented each and every imaginable human emotion with minimal use of textual aids without impacting the narrative in any way. The time transition is also very well seen in the book. For those who are interested to see how the Iranian style grew over a span of 100 years please click this link.
Marjane's humorous way of comic strip narration grips the reader all-throughout. This book is now a classic and also has a motion picture where Satrapi has turned into direction.
One of my favorite stories in the book is about Uncle Anoosh. I also like the last part when Marji finally makes her way to Austria – this intermission won't let you sit idle, as the story does not end here, but moves on to another phase and part of the world. So it would be my suggestion to order both the parts together – Persepolis and Persepolis 2.
Persepolis: The story of a childhood, Marjane Satrapi, 154 Pages Black & White Illustration; Pantheon 2003